Patty Wands Loves Mules and Music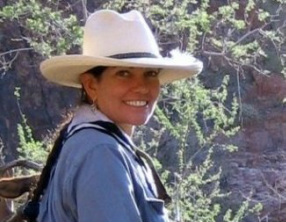 By Betty Barr

Patty Wands has gone form packing mules for the National Park Service to "packing 'em in" at music performances in Arizona. After 25 years with the Park Service, she parleyed her love of music into a new career; arranging intimate concerts for top-notch western, folk and country musicians.

Her love of mules and music was probably born in the mule barn at the Grand Canyon, where she enjoyed morning coffee with the cowboys. The wranglers and packers all had a talent. Some were cowboy poets, some wrote music, others were singers or just amazing at storytelling about working on ranches or riding mules into the Canyon.

The first time she met Ian Tyson, the well known folk and cowboy singer/songwriter, was in Flagstaff in 1988. She's been hooked on contemporary western music ever since. In 2008, she partnered with Blaine McIntyre to promote a Tyson concert in southern Arizona and 4 more shows since then.

Patty first started working at the Grand Canyon, North Rim, at the age of 17 for TWA, Parks Division. Fresh out of high school, she applied for a waitress job and started making $1.20 per hour! Two years later, she was hired with the National Park Service collecting fees at the entrance station. She says her real canyon adventures started when she worked for the Park's River Unit, processing permits, serving as a cook and all around swamper for river patrols.

In 1984, she left the Grand Canyon for Yosemite NP, where she learned to pack mules. The park had embarked on a program to encourage women in non-traditional roles and was a perfect fit for this courageous gal. While in Yosemite, Patty also built trails, framed cabins, lived in wall tents, and one of her favorite jobs was cooking for trail crews. Dutch ovens and open fires. Now you know where the name Patty Wagon came from...not because she has ever been arrested! "The groceries all came in by mule string, as well as the stoves, tents, propane and dutch ovens. We kept food cold in the river and beef in a screened locker to keep the insects out. When (not if) the beef got green on the outside, we cut it off and used the rest." Bear watch was top priority in the Sierra Nevada Mountains. When bears came into camp, everyone grouped together to chase them away. Anyone hunkered down in his bedroll and didn't help had to stay in camp and help the cook all day, which included cleaning toilets and burning trash.

Her last post was at Saguaro National Park where she was given the OK to purchase her own string of mules to support fire and trail crews in the Rincon Wilderness. To beat the heat in the desert floor, you started around 4 am. A typical string of mules would be carrying fresh groceries, tools, duffel, propane and mule feed, and on the trip out, trash, empty propane tanks and dirty laundry. It was common to see bear, hawks and on lucky occasions, mountain lion. To Patty, the trail was God's country. From the desert to the pines it took 4 hours in the saddle. "The mules where company, nature was my church, my adventure and my medicine."

By the time she left the National Park Service in 2007, she called a group of talented performers her friends, including Ian Tyson, Ross Knox, Kip Calahan, Dave Stamey, Gary McMahan and Juni Fisher. Her circle has since grown to include, the Grammy winner Suzy Bogguss, Mary Kaye, Keeter Stuart, Nancy Elliott and author Mike Ward.

Western, cowboy and folk music entertains us all by taking us on a journey that some get to live and some dream about. For one evening, with any of Patty's friends, you can live in the spirit of the great American cowboy or cowgirl, because these folks are indeed the "real deal"!
---